Department of analytical chemistry of functional materials and environmental objects is ISO 17025 certified and can offer wide range of analytical services as:
Analysis of extra pure salts.
Analysis of waste precious metals including used industry and auto catalyzers.
Analysis of alloys containing precious metals.
Determination of precious metals in 999 ‰ gold, platinum, palladium and silver jewellery alloys.
Analysis of natural and drinking water for contamination of 33 elements and major anions.
Soil and air analysis for main components and trace-level impuritites.
Analysis of Cu, Zn, Pb, Cd in raw materials and foodstuffs.
Tests for security services: detection of psychotropic substances and drugs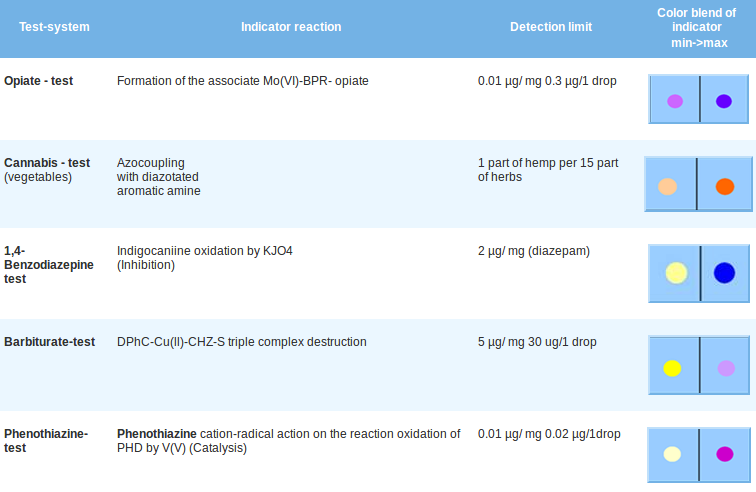 BPR – brompyrogallol red; DPhC – diphenylcarbazone; CHZ-S – chromazurole S; PHD – p-phenetidine; TR – Triton Х-100
Tests for environment: heavy metals and toxic impurities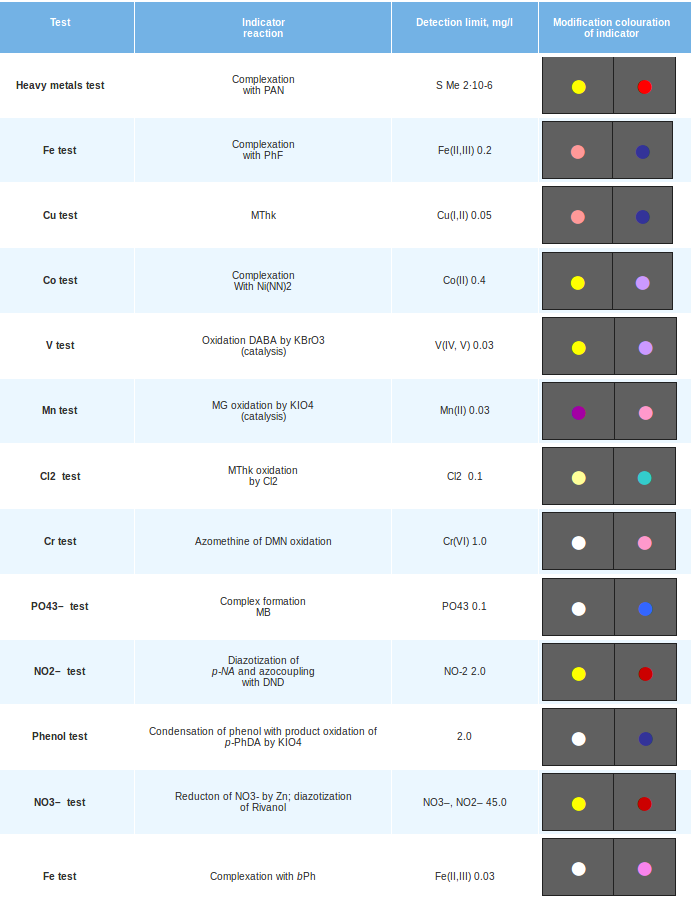 The conventional indications in the Tables:  Asc. ac. – Ascorbic acid; BA – Benzaldehyde; BM – Blue Molybdenum; bPh – batho-Phenanthroline; BPR – Brompyrogallol red; CHZ-S – Chromazurole S; C.Tr – Cotton tread; CP – Cetylpyridinium; DABA – Diethylaminoanilinebenzal; DG – Dimethylglyoxime; DMN – dimethylnaphthidine; DND – N-diethyl-N' –(1-naphtyl)-ethylenediamine oxalate; DPhC – Diphenylcarbazone; DPhG – N,N'-Diphenyl Guanidine; EDTA – Ethylendiaminetetraacetic; FP – Filter paper; Gel –Gelatin; IT –Indicator tube;  MG – Malachite Green; PMMA – Polymethylmethacrylate; MThk – Michler's thioketone; NaAc – Na Acetate; NN -1-Nitrozo2-Naphtol; NТА – Nitrilotriacetic acid; o-Ph – o-Phenanthroline; PAN – 1–(2-Pyridineazo)–2-Naphthol; PhF – Phenylfluorone; p-NA – p-Nitroaniline; p-PhDA – p-Phenilendiamine; PHD – p-Phenetidine; PUF – Polyurethane foam ; Rh6G – Rhodamine 6G; TC – Thiocarbamide; TR – Triton Х-100); WP –  Writing paper.