With application of convenient thermal heating and non-classical activation methods – microwave- and ultrasonic-assisted synthesis - the strategy of selectivity tuning some multicomponent condensations for synthesis of diverse types of heterocyclic compounds has been developed.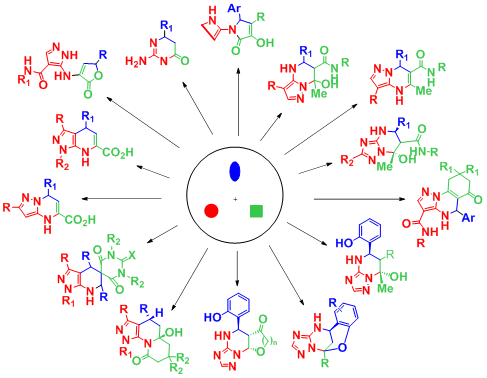 New multicomponent reactions leading to potentially pharmacologically active heterocycles – analogues of some natural compounds - was discovered and studied.
Multivectorial reactions of resonance-stabilized enolates were studied and depending of the treatment direction on the conditions was shown. Several possible curses of the reactions were investigated and optimal parameters of the processes for selective formation certain heterocycles were established.
A novel synthetic approach to substituted tetrahydropyrimidines via the formal hetero Diels-Alder reaction using several types of dienophiles was recently found. The reaction gives products in high yields, regio- and sterioselectivity.
Final technological stages of the production of some pharmacological substances were studied under microwave dielectric heating. It was developed procedures allowing efficient evaporation, formation supersaturated solutions and fast controlled crystallization of organic compounds leading to monodisperse powders and with crystals size near 8 μm.
The drying behavior of several active pharmaceutical ingredients has been studied as comparison of microwave and conventional heating techniques. The results of the research revealed a number of benefits of microwave heating such as scalability, high drying rates, energy savings (by a factor of 10), accurate temperature control, and better product quality due to a minimized risk of product degradation.


Kinetics of conventional drying (left) and microwave drying (right) of cocarboxylase hydrochloride
Microwave-assisted synthesis of zinc selenide by reaction of zinc and selenium was studied. It was surprisingly established that ZnSe obtained under microwave irradiation by direct solid-phase reaction possessed luminescent properties while there was no possibility to obtain the same result by direct treatment of elements under convenient thermal heating.

Luminescence of ZnSe obtained by MW synthesis: A – without alkali halide additive; B – with KCl
Recent research activities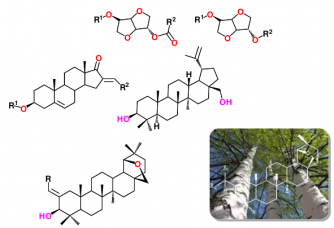 Directed synthesis of chiral compounds as components of LC systems.
Synthesis and study of molecular structure and conformational isomerism of chiral dopants with high helical twisting power on the basis of dianhydrohexitoles (iso-sorbide, iso-mannid), 17-ketosteroids and triterpenoids from lupane series.
Modification of natural compounds as a source of chirality to the medicinal chemistry and materials science tasks.
Searching substances for selective inhibition of enzyme 11β-HSD1 (11β-Hydroxy Steroid Dehydrogenase type 1) – a drug-target for treatment of disorders with cortisol excess such as obesity, insulin resistance and type 2 diabetes mellitus, and SIRT1 (NAD-dependent deacetylase sirtuin-1) activators – potential agents for age dependent metabolic abnormalities treatment ( in cooperation with other departments scientists and specialists of SI "V. Danilevsky Institute for Endocrine Pathology Problems of the National Academy of Medical Sciences of Ukraine", Kharkiv).



Synthesis and molecular structure investigation of fused and spiro-organized nitrogen containing heterocycles for
different pharmacological purposes.